Meet Somaly Mam: From Horror to Hope and Heroism
In this moment, I shudder to think of the minutes, hours, weeks of my life that have been spent worrying about the size of my thighs or the contents of my colon. I struggle to consider the fact that while I have spent so much time worrying about the ratio of enzymes, antioxidants and omega fatty acids in my smoothie, a 5-year old girl was being brutally raped and tortured in Cambodia.
I know my name.
I know how old I am.
While my parents, like most, dished out a few curve balls along the way, I had my Strawberry Shortcake bedroom sheets and a place called home that felt like one. I was free to speak, and even get a bit sassy once in a while without severe repercussions. I could play, dream, learn, eat and walk in the streets without any consideration that these things would ever be threatened. And indeed, they never were.
It has been said that long after a person has given up on themselves, when their will to live for their own right has been lost, you will still find within them a willingness to help another. You will live to help another, even after you've stopped living for yourself.
If there is one woman who proves this to be true, it's Somaly Mam.
Somaly Died a Long Time Ago
Somaly Mam does not know her real name. She does not know when she was born, nor who her parents are. When she was very young, (mid 1970s) her village in Cambodia was terrorized by a Communist dictatorship that drove thousands of people into the country side avoiding genocide. Somaly was essentially orphaned at a young age until a man posing as her "grandfather" took her in, pretending he would help her to find her mother.
Instead, he held her captive in slavery to him and raped her with a knife to her head when she was about 10-12 years old. In that moment, the woman we know as Somaly Mam will tell you that she "died."
Life After Death
Sold to a brothel when she was about 14, Somaly was forced into marriage and experienced violent rape and torture on a daily basis. She was caged with snakes and scorpions in a cellar if she refused sex with clients. On one occasion, Somaly was made to watch as her best friend was viciously murdered. Fearing a similar fate, she managed to escape her situation and, with the help of others, set about building a new life for herself.
But if you ask Somaly if she feels alive, she will tell you, "no."

She does not feel alive inside herself.  That light went out in the violent disregard of her being-ness some time ago. Her life persists still, not because of her goals to retire, or her pursuit of a noble career. She doesn't eat because she wasn't to be slim, trim and attractive. Her life persists because of her urgent desire to free other young girls and women from the human rights violations she experienced on a daily basis for years.
She has already rescued nearly 5000 young girls and is committed to helping other young women and children reclaim their rights to laughter, hope, dreams and freedom.
"What you have learned from experience is worth much more than gold. If you have a house it may burn down. Any kind of possession can be lost, but your experience is yours forever. Keep it and find a way to use it."

? Somaly Mam, The Road of Lost Innocence: The True Story of a Cambodian Heroine
A Drop In the Bucket Will Shift the Tides of the Ocean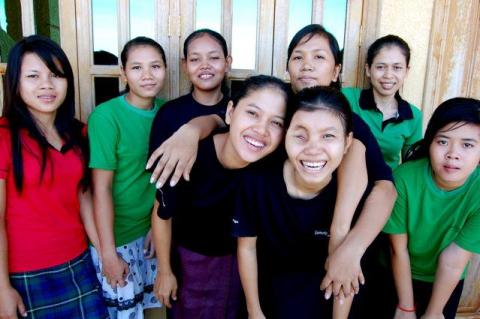 When I first thought of  WISH, I had an image of a woman lying awake at night. She was looking for answers to resolve her problems in love, finance, health, fitness, spirituality and sex. My wish for the creation of this project was to help her–that sleepless woman in search of solutions.
I wasn't thinking, then, of caged women in Cambodia who do not have the luxury of considering their problems in love, finance, health, fitness, or spirituality. I wasn't thinking of the women who stay awake at night because they are haunted by the recollections of a violent and traumatic past.
I dunno about you, Sunshine, but it sure puts the size of my thighs into perspective.
So, I guess it's true, what they say about us "all being connected."
It's true that when you throw pebble into the pond of self-love, betterment, freedom, joy and the pursuit of happiness, it does ripple in magnificent ways to impact the lives of so many others–others you didn't even know existed or could be touched by the things you do.
It's true that one person can make a difference.
It's true that one person can be you.
It's true that wishes do come true, and on March 8th, tens of thousands of women with wishes of all sizes, shapes, colors and grandeur will come to drop their pebbles in an ocean of possibility. I trust that those ripples will make their way to you. Please join us and invite all those you know and love to be a part of this year's WISH Summit. Somaly Mam will be sharing her grace on our WISH stage, and it promises to be a life-saving call for many.
This year, any of the profits generated by the sales of our WISH Workbook will go to support the Somaly Mam Foundation. Please. Tune in to WISH. If you wouldn't have done it to improve your own life, do it to improve the lives of women and young girls in other parts of the world would may not have a life without you.